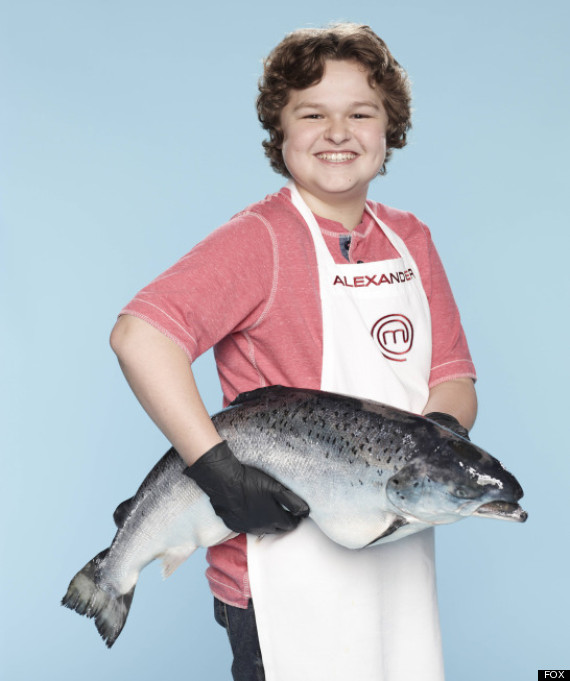 picture is taken from
here
rabu 28/5 (12:41 pm)
reality show yang berkaitan dengan acara masak memasak itu salah satu yang senang gua tonton, karena asyik khan menyaksikan tayangan yang bikin ngiler, haha.. and syukur2 kalau resepnya gampang diikutin khan bisa buat dipraktekkin juga :p
anywayy.. salah satu tontonan gua belakangan ini adalah musim pertama junior masterchef us! astaganagaa.. melihat anak2 usia 8-13 tahun pada berjibaku di dapur masterchef dan menghasilkan makanan yang menarik secara visual dan dipuja puji para juri soal rasanya yang menggoyang lidah, rasanya sesuatuu bangets dhe! bayangkaann.. dalam usia semuda itu mereka sudah mampu menyajikan makanan yang dianggap layak untuk dijual di restoran ataupun hotel berbintang, cckk.. padahal gua bikin kue yang simpel aja seringkali kalau ngga gosong ya tengahnya belum matang sempurna, huahahahaha *abaikan* :p
dari sekian banyak kontestan yang adaa.. ada seorang anak yang mencuri hati gua sejak pertama gua melihatnya.. ya ya yaa.. gua emang 'lemah' kalau melihat anak lelaki berambut keriwil dengan pipi chubby nan kemerah2an, duuhh.. rasanya tuh yaa pengen nyubit sekaligus nyium tuh pipi sambil ngacak2 rambutnya XD
he's none other than.. alexander weiss..
*notes : all the below pictures of alexander weiss are taken from the internet, using google with "alexander weiss" as the keyword*
who can resist such a charming boy like him?!
alex and dara in the finale, ready to win the 1st ever junior masterchef title
nyaamm.. tuh susu and burger sepertinya enaakk.. bagi donks, alex!!
coba liaaatt.. pipinya yang kemerah2an ituu! duhh.. ngegemesin bangets sih dirimu, alexander!!
tadinya sih niat dengan setia menonton episode demi episode yang tayang di starworld tapi apa dayaa.. ngga tahan juga untuk mencari tahu siapa pemenangnyaa.. and tadaa.. ini dia yang menang di final junior masterchef us..
congrats yaa, alexander! may this be a beginning for something big for you in the culinary world in the future ;) and psstt.. kalau niat ngirimin sampel makanan, gua ngga bakal nolaks XD
rabu 28/5 (12:52 pm)