picture is taken from
here
kamis 13/11 (11:56 am)
perasaan yaa dari nonton masterchef edisi sana sini lalu nonton musim ini itu, mungkin bisa dibilang bahwa byron dari masterchef australia season 6 ini emang ngga bisa dipungkiri adalah peserta terganteng, ahahahaha *cupss*
gua ngga nonton rutin sih penayangan masterchef australia season 6 and kebetulan di episode byron kepilih jadi top 24 itu gua ngga nonton jadi ngga tau juga seberapa 'fatal' kesalahannya dalam hidangan yang disajikannya kala itu. tapi emang biar gimana, orang cakeps ituu selalu adaa aja yang komen kalau byron hanya modal tampang aje makanya dia bisa lolos, haduh, hahaha.. yang sabar ya, byron!
secara hidangan, mungkin emang yang dibikin byron itu ngga ada yang fenomenal, sampai2 di episode dia tersingkir aja ngga ada rekapan hidangan yang dipuji juri XD tapi kalau secara personal, byron ini sepertinya orang yang baik *cupss lagi dhe ahahahaha :p*
and karena byron juga gua jadi terpesona ama marco pierre white, salah satu chef/juri/mentor tamu. lho, kok bisa?
picture is taken from
here
buat yang suka nonton masterchef professionals mungkin ngga asing lagi dengan marco ya karena di sana bareng matt preston, marco jadi juri di acara masak tersebut. kesannya ya si marco ini khan galak dan suka mengintimidasi orang, tapi eh tapii.. di masterchef australia justru jadi suka amazed akan komentarnya terhadap para peserta.
salah satu yang sering dapat nasihat dari marco adalah si byron. pas masakan byron terpilih masuk dalam top 3 worst dishes yang membuatnya masuk babak eliminasi bareng amy and tash, marco mengajak byron menyingkir ke samping, jauh dari pendengaran rekan2nya dan memberikan nasihat ke byron. gua rada lupa sih apa aja yang dibilang marco ke byron, ahahaha.. musti nonton episode ulangannya XD
pas babak eliminasi di mana byron dan kedua rekannya harus memasak hidangannya marco juga pas mereka bertiga dipanggil untuk diberitahu siapa yang harus menghentikan langkah di masterchef, marco bilang gini ke byron, "gua ngga akan mengomentari masakan elo karena itu elo udah tau. tapi gua akan memberikan komentar atas elo sebagai seorang pria. salah satu hal yang menonjol dari elo adalah kerendahan hati, dan hal2 hebat itu ngga ada yang datang dari kesombongan tapi dari kerendahan hati. elo mungkin ngga menang masterchef kali ini tapi elo bisa meninggalkan kompetisi ini dengan kepala tegak."
terus sambil mengiring byron ke mobil yang akan mengantarkannya pulang, marco lagi2 berpesan, "bagus elo udah menemukan apa yang menjadi impian elo dan sekarang udah menjadi tugas elo untuk mewujudkannya," dan gua pun lupa kelanjutannya, ahahaha XD
rasa2nya ngga nyangka aja nasihat itu bisa keluar dari mulut marco, mengingat reputasinya itu lebih sebagai pengintimidasi, huehehehe.. ditambah lagi dia suka memandang orang langsung ke mata mereka seakan berusaha menembus ke jiwa, aiihh.. nasihat2 yang diberikan ke amy dan tash di episode yang sama juga bagus.
kepada tash, marco berpesan, "seberapa pun seringnya elo tersungkur.. elo harus memastikan bahwa tidak ada orang yang membantu elo bangkit, elo harus bisa bangkit sendiri dan kembali melangkah", yahh.. kurang lebih githu dhe..
eh ehh.. ini postingan sebenernya tentang marco apa byron seeh, ahahaha XD
anywayy.. pas menyajikan hidangannya di babak eliminasi, byron menjadi emosional dan berkata, "walaupun telat, tapi baru pertama kali ini di usia 27 tahun gua menemukan apa yang gua inginkan dalam hidup ini. i want to be a chef. i like cooking."
dan george (calombaris) pun menyemangatinya, "hey, itu hal yang bagus bahwa elo menemukan tujuan hidup elo di usia 27 tahun, karena banyak orang yang seumur hidup itu ngga tau apa yang mereka inginkan, apa yang menjadi passion mereka, what they love doing, not a job."
well, byron.. sukses selalu in all things you do ^o^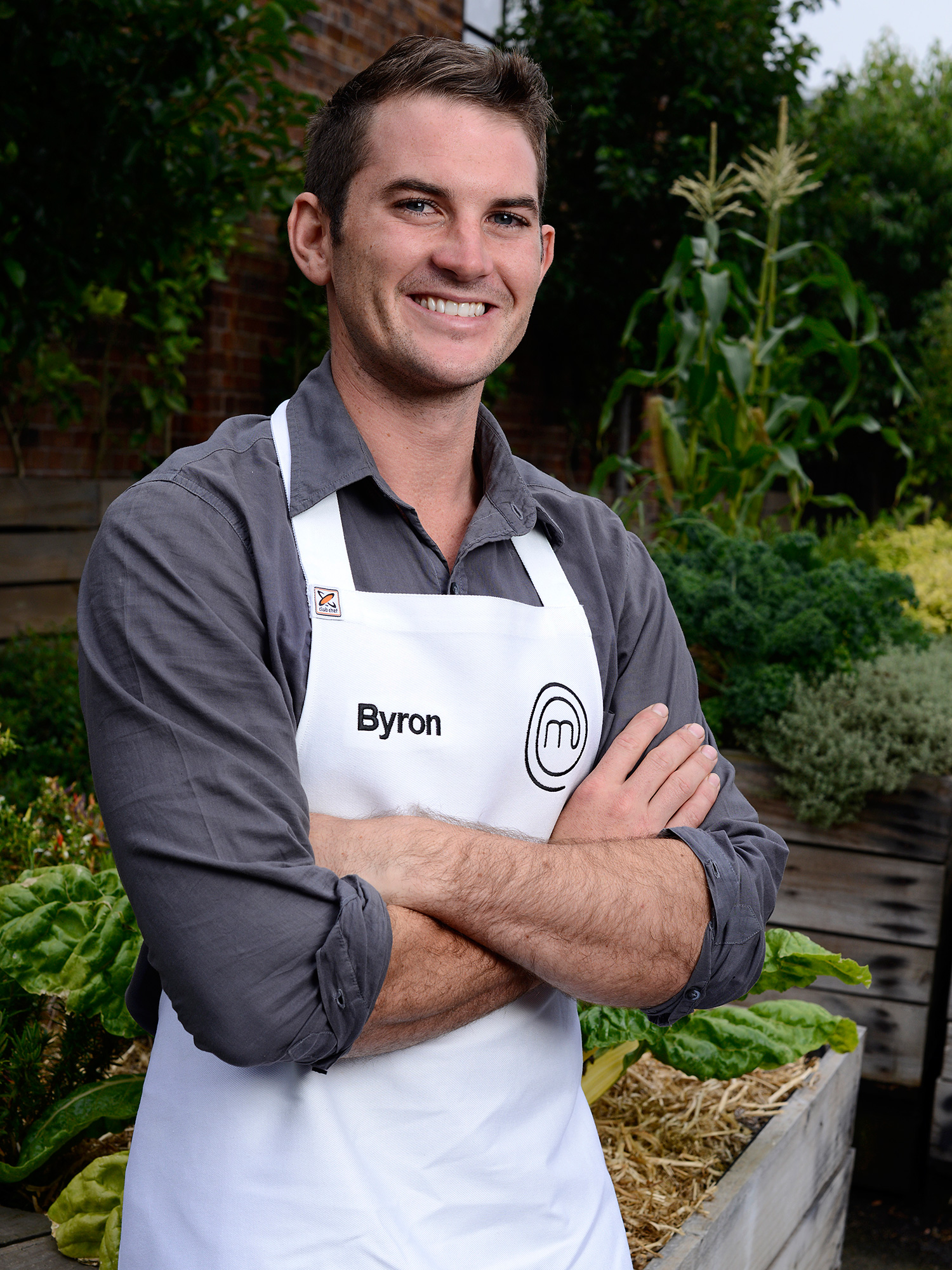 picture is taken from
here
omg.. after reading
this
, huahahahahahaha.. gua jadi teringat kembali akan mystery box challenge di mana byron memakan sarden yang dia masak XD soalnya juri khan bilang mereka hanya akan mencicipi top 5 dishes ajee makanya ketika udah 5 nama dipanggil untuk dicicipi masakannya.. ehh di bagian belakang disorot si byron lagi nyuap tuh sarden ke mulutnya, huahahahahahaha.. what an episode!! :))
kamis 13/11 (12:44 pm)